A couple of changes:
1} I am bringing back my party
Its So Very Thrifty
it will be a Saturday party (which means it will go up on Friday Night)
You can post your thrifty finds, garage sales finds, thrifty decor, thrifty meals, tips etc…
~~~~~~~
2} I AM leaving each party up for 5 days so you have longer to put your posts up
AND
I will post some of my FAVS at the next cooresponding party.
All of last weeks favs are HERE
~~~~~~~
I was honored to have my Faux Driftwood Boat featured over at Under the Table and Dreaming, thanks Stephanie Lynn–you rock. If you have featured any of my projects let me know.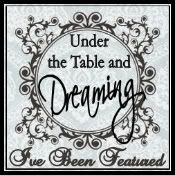 ~~~~~ 
I have a couple of fun projects to show you tomorrow.